Features
Officially licensed 1970 Chevy Chevelle body with molded details and LED head and tail lights
Factory-installed 6000Kv 2-in-1 brushless power system
Proven Mini 22 platform based on the Losi® Mini-T™ and Mini-B™
Multi wheelbase chassis accommodates other on-road mini bodies
Officially licensed Mickey Thompson front and rear tires with realistic looks and performance
Comes with a high capacity 2S 800mAh LiPo battery and convenient USB charger
Multiple suspension tuning options to optimize your set up for specific track conditions
Transmission based on the TLR® (Team Losi Racing®) 3-gear mid motor transmission
Overview
Drag racing is one of the purest forms of competition. It seems simple, trying to outrun your opponent over a relatively short distance in a straight line. But the simpler the race, the more evenly matched any two competitors will be. That's what makes the ready-to-run Losi® 1970 Chevelle 2WD Mini No Prep Drag Car so much fun for new RC hobbyists and experienced competitors alike. It's an easy, inexpensive way to experience drag racing thrills while enjoying the scale looks of an iconic American muscle car.
Of course, it's natural to think that larger is better, faster is more fun, and a course with higher jumps and more turns is the ultimate place to race. The truth? Driving a somewhat slower vehicle over fewer obstacles means there's less to go wrong and put an end to the action. You'll spend more time competing and having uninterrupted fun with the Losi® 1970 Chevelle 2WD Mini No Prep Drag Car.
It will be a bigger blast than you can imagine. The 1970 Chevelle 2WD Mini No Prep Drag Car isn't just for modelers who already know and love the Losi Mini 22 platform, or for racers who want a mini version of their high-end 1/10 scale drag car. It's for everyone who enjoys the fun of competing — with special appeal to fans of the Chevy Chevelle, drag racing, or mini RC vehicles.
The Losi 1970 Chevelle 2WD Mini No Prep Drag Car offers new and younger racers a great way to get started in the hobby. For serious RC drag racers it's an alternative to the stresses of high stakes competition, a convenient way to just have some high-performance fun. You'll feel free to run it anytime you like, without adding wear and tear to your larger, more expensive 1/10 scale drag car.
There's no other RC car like the Losi 1970 Chevelle 2WD Mini No Prep Drag Car. It's ready to run, brushless powered, built on the proven Losi Mini 22 platform, with an officially licensed 1970 Chevy Chevelle muscle car body and a chassis whose wheelbase adjusts to accommodate other mini body styles you might prefer.
Get together with a friend. Take your Losi 1970 Chevelle 2WD Mini No Prep Drag Cars to the local park, an empty parking lot, wherever there's a relatively smooth concrete, black top, or cement surface. Picture a flag going down or a light turning green — and punch the throttle.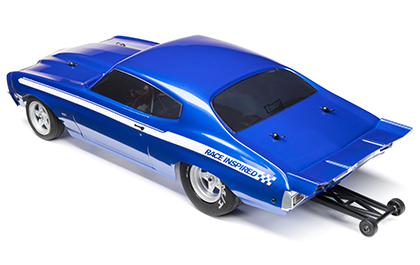 OFFICIALLY LICENSED 1970 CHEVY CHEVELLE BODY
The officially licensed 1970 Chevy Chevelle body includes molded parts for added scale detail, such as bumpers, grille, and LED head and tail lights.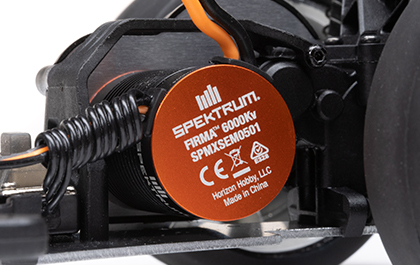 BRUSHLESS POWERED
It may look simple, but the installed 6000Kv 2-in-1 brushless power system will get you down a 1/16 scale, 82.5 foot long drag strip fast! The integrated ESC on the back of the motor can be tuned to your driving preference,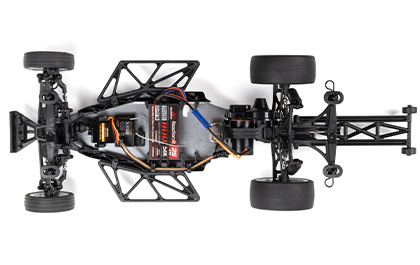 PROVEN MINI 22 PLATFORM
The 1970 Chevelle 2WD Mini No Prep Drag Car is based on the Mini 22 platform found in Losi® Mini-T™ and Mini-B™ vehicles and shares most of the same parts.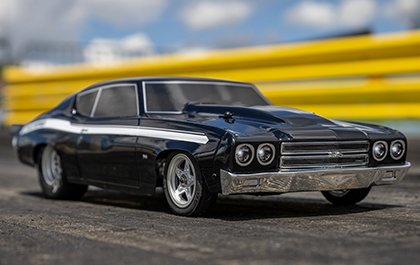 MULTI WHEELBASE CHASSIS
In stock form, the 1970 Chevelle 2WD Mini No Prep Drag Car has a 239mm wheelbase. It can be shortened by 14mm to 225mm, however, in order to accommodate other on-road mini bodies.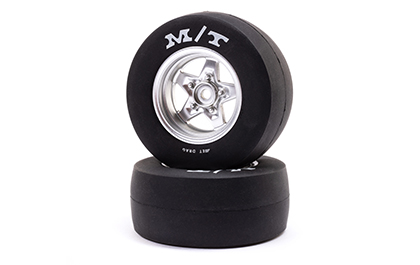 OFFICIALLY LICENSED MICKEY THOMPSON TIRES
The officially licensed Mickey Thompson front and rear tires look just like the real tires found on most big tire drag cars — and they perform just as well on the strip!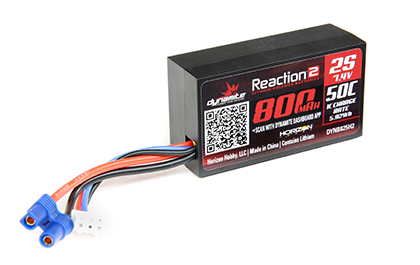 LIPO BATTERY & USB CHARGER INCLUDED
Our high capacity 2S 800mAh LiPo battery is included to give you the best performance. Its convenient USB charger can be plugged into any USB port or USB block you already own.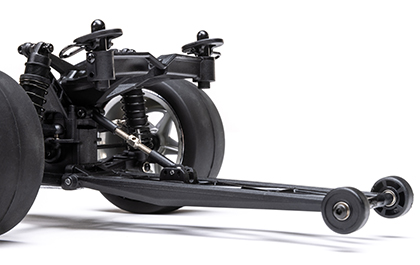 FULLY TUNABLE SUSPENSION & WHEELIE BAR
Multiple suspension tuning options, including camber, toe, ride height, and wheelie bar angle, allow you to optimize your set up for specific track conditions. Three optional toe blocks are included to get you started.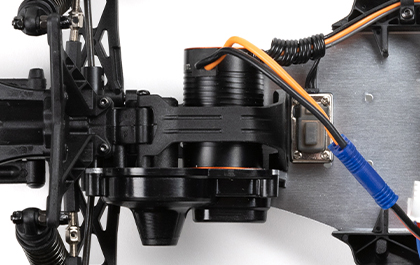 PERFORMANCE TRANSMISSION
The 1970 Chevelle 2WD Mini No Prep Drag Car's performance transmission is based on the TLR® (Team Losi Racing®) 3-gear mid motor transmission. Its metal internal gears are tied to an adjustable slipper clutch to fine-tune the power delivery.